At least seven people have been killed and 11 others were injured in Lviv, Ukraine, Monday morning, after Russia's military launched several missiles into the city, officials said.
Smoke rose over the Western city after four missiles hit three warehouses and also struck a civilian car tire service garage, where people were working, a Ukraine military spokesperson said.
The explosions severely injured three adults and a child suffered minor injuries.
UKRAINE PUSHES RUSSIA BACK FROM KHARKIV; SOLDIERS IN MARIUPOL RESIST KREMLIN ULTIMATUM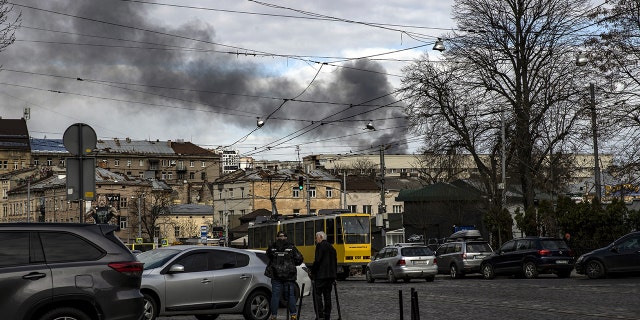 LVIV, UKRAINE – APRIL 18: Smoke rises after five aimed missile strikes hit Lviv, Ukraine on April 18, 2022.
(Photo by Ozge Elif Kizil/Anadolu Agency via Getty Images)
West Air Command confirmed the missile attack, which also reportedly damaged infrastructure along train rails. The missiles were believed to be intended for a train station, the Ukrainian military spokesperson said.
Local authorities are still attempting to extinguish the flames and clear the rubble.
Lviv Mayor Andriy Sadovyi said the attack further proves that there are no safe places for civilians in Ukraine.
Across the country, Ukraine has vowed to "fight absolutely to the end" to keep Russia from capturing the port city of Mariupol, Ukrainian Prime Minister Denys Shmyhal said.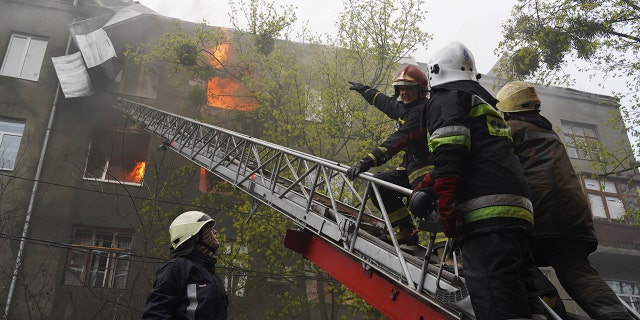 Firefighters work to extinguish fire at an apartments building after a Russian attack in Kharkiv, Ukraine, Sunday, April 17, 2022. (AP Photo/Andrew Marienko)
(AP Photo/Andrew Marienko)
Last week, Russia's military started a seemingly relentless siege of the city, which, if it falls, would be Russia's biggest victory of the war.
A few thousand Ukrainian fighters reportedly remain in the city.
Capturing Mariupol would provide Russia direct access to the Sea of Azov, giving it routes to resupply and reignite its offensive strategy in Ukraine, specifically in the eastern Donbas region. It would also provide Russia a land corridor to the Crimean Peninsula, an area it seized from Ukraine in 2014.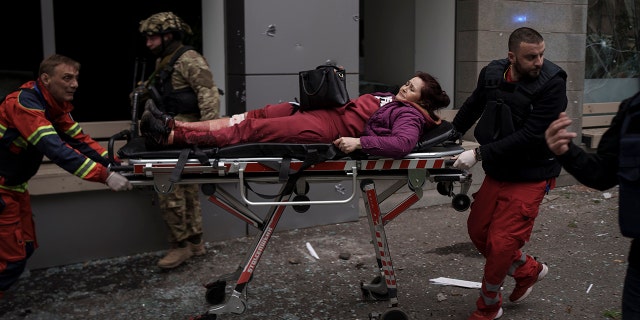 A woman is taken to an ambulance after being injured in a Russian bombardment in Kharkiv, Ukraine, Sunday, April 17, 2022. (AP Photo/Felipe Dana)
During a nightly address Sunday, Ukrainian President Volodymyr Zelenskyy said his administration and military were "doing everything to ensure the defense" of his country.
Fox News' James Levinson, Matt Finn, Jeff Paul and the Associated Press contributed to this report.