The parents of the teen suspect accused of killing four students after opening fire inside a high school earlier this week are now facing involuntary manslaughter charges as prosecutors on Friday revealed text messages allegedly sent to their son before and after the attack.
James and Jennifer Crumbley are each facing four counts of involuntary manslaughter, according to Oakland County prosecutor Karen McDonald. Their son, 15-year-old Ethan Crumbley, allegedly fired at least 30 rounds in the hallways of Oxford High School on Tuesday, killing four classmates and injuring seven others, including a teacher.
"While the shooter was the one who entered the high school and pulled the trigger, there are other individuals who contributed to the events on November 30 and it is my intention to hold them accountable as well," McDonald told reporters during a press conference. "It's imperative we prevent this from happening again. No other parent or community should have to live through this nightmare."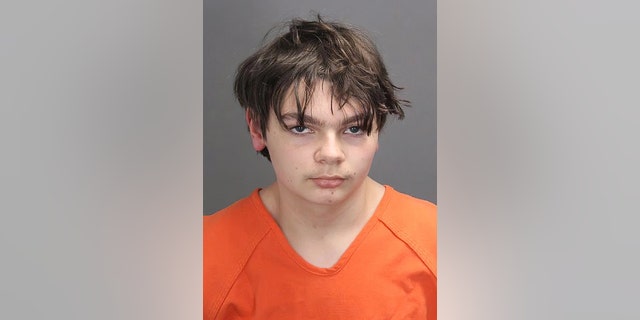 Ethan Crumbley, 15, allegedly shot and killed four students and injured seven others at Oxford High School.  (Oakland County Sheriff's Office)
(Oakland County Sheriff's Office)
McDonald said the weapon recovered following the shooting – a 9mm Sig Sauer pistol — was purchased by James Crumbley in the presence of his son at a local firearms store on Black Friday, per an employee that worked there.
The teen then took to social media around that date to post images of a semi-automatic handgun with the caption "just got my new beauty today [heart emoji] sig sauer 9mm any questions I will answer," according to McDonald.
The next day, McDonald said Jennifer Crumbley posted on social media "mom and son day testing out his new Christmas present."
In the week before the shooting, on Nov. 21, McDonald said a teacher at Oxford High School had noticed Ethan Crumbley searching for ammunition on his cell phone during class and reported the incident to administrators.
His mother then was contacted by phone and email, but the school never heard back from her, McDonald says. Instead, she added, Jennifer exchanged text messages with her son about the incident, one of which said "Lol I'm not mad at you, you have to learn not to get caught."
Then on the morning of the shooting, Ethan's teacher noticed an alarming note on his desk that contained drawings of a semi-automatic handgun, a bullet and a person being shot twice with the phrases "the thoughts won't stop, help me," "blood everywhere," "my life is useless" and "the world is dead" written throughout, according to McDonald.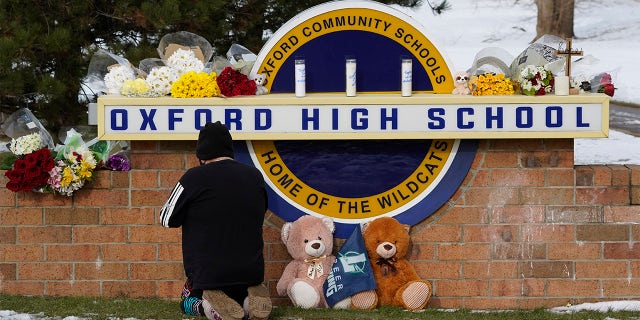 A well-wisher kneels to pray at a memorial on the sign of Oxford High School in Oxford, Mich., on Wednesday.
(AP Photo/Paul Sancya)
The prosecutor said Ethan and his parents were immediately summoned to a meeting, during which they were told they were required to get their son into counseling within 48 hours.
At that meeting, the parents were shown Ethan's drawing but portions of it were scratched out by Ethan beforehand, such as the drawing of the gun and bloody figure, McDonald said.
MICHIGAN STUDENT, 17, BROUGHT GUN TO SCHOOL NOT FAR FROM DEADLY MASS SHOOTING DAY EARLIER, POLICE SAY
She noted that the parents resisted the idea of their son leaving school at that time and departed the building without him. He then returned to the classroom and hours later drew the weapon from his backpack and started firing, prosecutors allege.
Then when news of the shooting became public, Jennifer Crumbley texted her son at 1:22 p.m., "Ethan, don't do it," McDonald said.
Fifteen minutes later, James Crumbley called 911 to report a gun missing from his house and that he believed his son might be the shooter, she added.
"Further investigation revealed that the Sig Sauer 9mm handgun purchased by James Crumbley was stored unlocked in a drawer in James and Jennifer's bedroom," McDonald said.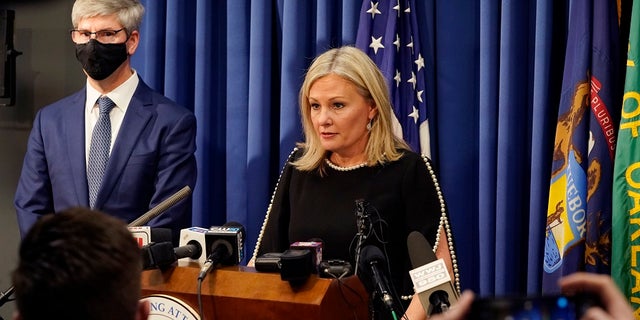 Oakland County prosecutor Karen McDonald addresses the media in her office, on Friday in Pontiac, Mich.  (AP Photo/Carlos Osorio)
((AP Photo/Carlos Osorio))
The gun found at the scene of the shooting was the same one that James Crumbley purchased on Nov. 26, McDonald alleged.
"Gun ownership is a right and with that right comes great responsibility," McDonald also told reporters during the press conference.
Meanwhile, Ethan Crumbley is facing one count of terrorism causing death, four counts of first-degree murder, seven counts of assault with intent to murder, and 12 counts of possession of a firearm in the commission of a felony.
The teen recorded videos the night before the shooting in which he "talked about shooting and killing students the next day at Oxford High School," Oakland County Sheriff's Office Lt. Tim Willis said Wednesday.
Crumbley met with school officials on Monday as well, to address behavioral issues in the classroom, Oakland County Sheriff Michael Bouchard said.
Crumbley still had 18 live rounds when police apprehended him in the hallway just five minutes after the first 911 call, Bouchard added.
The four students who died in the shooting are 16-year-old Tate Myre, 14-year-old Hana St. Juliana, 17-year-old Madisyn Baldwin and 15-year-old Justin Shilling.
At least three of the injured victims have been released from the hospital, including the 47-year-old teacher who was shot in the shoulder.
Fox News' Paul Best contributed to this report.