A federal judge ruled Wednesday that a lawsuit over Kobe Bryant crash scene photos can move forward, keeping it on track for a jury trial next month.
U.S. District Judge John F. Walter concluded that "there are genuine issues of material fact for trial" and denied Los Angeles County's motion to dismiss the case, NBC Los Angeles reported.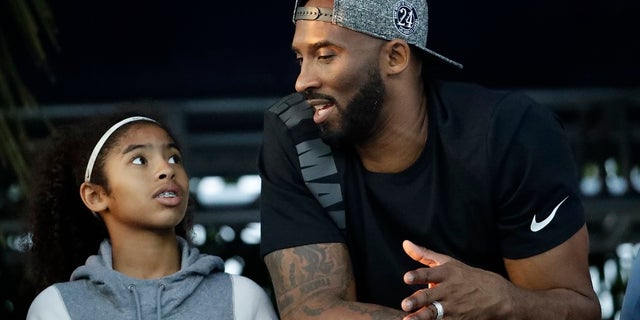 Former Los Angeles Laker Kobe Bryant and his daughter Gianna watch the U.S. national championships swimming meet in Irvine, Calif. Vanessa Bryant settled with the company that operated the helicopter involved in the deadly crash that killed him, her daughter and seven others. (AP Photo/Chris Carlson, File)
KOBE BRYANT'S WIFE WINS RULING, LA COUNTY OFFICIALS TO TESTIFY ABOUT CRASH PICTURES
Four months after the January 2020 accident, the NBA icon's wife Vanessa Bryant sued the Los Angeles County Sheriff's Department and other agencies for emotional distress, claiming first responders took and shared unauthorized photos of the human remains of her husband and daughter at the crash site. The county's lawyers maintain the images "were not publicly disseminated."
Bryant's attorneys asked a federal judge to deny a defense dismissal motion to allow the case to go forward. County attorneys argued that Bryant's claim of emotional distress caused by the alleged sharing of the cellphone photos is based on "hypothetical harm" and thus lacks standing since the images were never publicly circulated, and she never saw them, FOX 11 Los Angeles reported.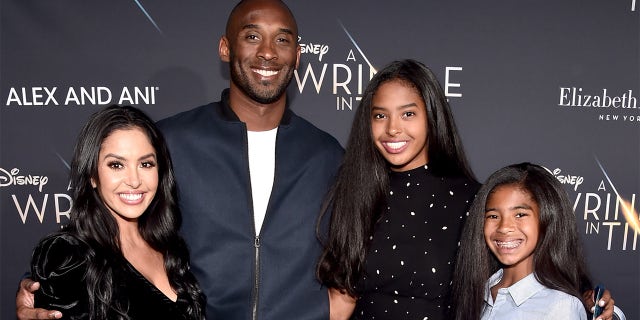 LOS ANGELES, CA – FEBRUARY 26:  (L-R) Vanessa Laine Bryant, former NBA player Kobe Bryant, Natalia Diamante Bryant, and Gianna Maria-Onore Bryant arrive at the world premiere of Disney's 'A Wrinkle in Time' at the El Capitan Theatre in Hollywood CA, Feburary 26, 2018.  
((Photo by Alberto E. Rodriguez/Getty Images for Disney))
VANESSA BRYANT LAWSUIT DETAILS HOW SHE DISCOVERED KOBE BRYANT AND DAUGHTER WERE DEAD
"The close-up photos of Gianna and Kobe's remains were passed around on at least 28 LASD devices and by at least a dozen firefighters," Bryant's attorneys previously wrote. "And that was only the beginning. The gratuitous sharing continued in the following days and weeks and included such outrageous conduct as flaunting the photos in a bar while pantomiming dismemberment and showing off the photos over cocktails at an awards gala. One deputy guffawed while sharing the photos; another described the crash victims' remains as `hamburger' and `piles of meat.'"
All nine people aboard the helicopter died when the aircraft crashed into a hill in Calabasas, California, amid heavy fog while traveling to a teen basketball tournament at Kobe's Mamba Sports Academy near Thousand Oaks.
The NBA legend's widow is seeking millions of dollars in damages for the severe emotional distress, according to FOX 11 LA.
Multiple media outlets report the trial date is Feb. 22 in Los Angeles.
Pilar Arias is a multimedia journalist with more than 10 years of experience in broadcast, digital and print production. She enjoys covering a wide variety of topics. Follow her on Twitter: @PilarFOXNews.