A mass shooting at a Walmart in Chesapeake, Virginia Tuesday night that left six people dead was carried out by one of the store's employees before he took his own life by turning the gun on himself, the Chesapeake Police Department says.
Chesapeake Police Chief Mark Solesky told reporters Wednesday morning that the male employee used a pistol in the attack, which also left four other people hospitalized.
Their conditions are currently unknown, and following a search by a SWAT team at the individual's home, police believe there is "no risk to the public at this time," Solesky added.
The employee has not been identified, as police say they have yet to contact his next of kin. Prior to the shooting, officials say he was not familiar to law enforcement. He died of a self-inflicted gunshot wound, police say.
VIRGINIA CANDLELIGHT VIGIL HELD FOR MURDERED MOTHER, 3 CHILDREN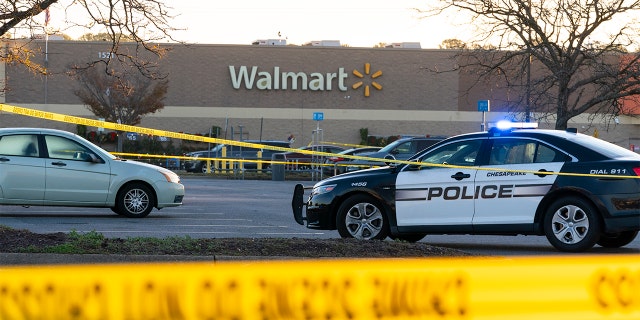 Law enforcement work the scene of a mass shooting at a Walmart, Wednesday, Nov. 23, 2022, in Chesapeake, Virginia.  The store was busy just before the shooting Tuesday night with people stocking up ahead of the Thanksgiving holiday. 
(AP Photo/Alex Brandon)
"The investigation is still ongoing," Solesky said. "We will be processing that scene for days."
The comments from the police chief come after a video emerged of an employee claiming a store manager carried out the mass shooting.
Kevin Harper, a Walmart employee who managed to flee the store, said in a video that "we lost a few of our associates."
"I just left out of the break room, the manager comes in there and started capping people up in there. Started shooting bro," Harper said.
Employee Briana Tyler said that workers had gathered in the store's break room as they typically did ahead of their shifts.
"I looked up, and my manager just opened the door and he just opened fire," she told ABC's "Good Morning America," adding that "multiple people" dropped to the floor.
"He didn't say a word, he didn't say anything at all," she said.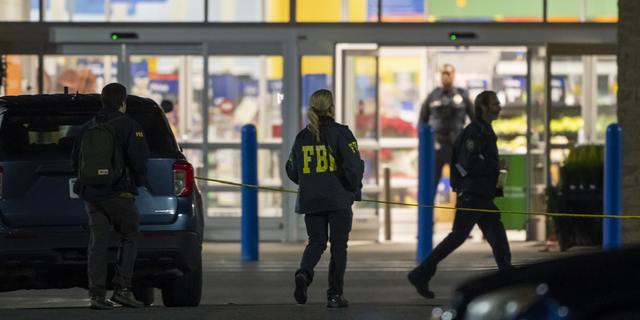 Law enforcement, including the FBI, work the scene of a mass shooting at a Walmart on Nov. 23, in Chesapeake, Virginia.
(AP/Alex Brandon)
Chesapeake police said earlier they responded to an "active shooter" call at the store located along Battlefield Blvd. at approximately 10:12 p.m. When officers arrived, they coordinated with a tactical team to enter the store, where they found multiple bodies, said Chesapeake police spokesman Leo Kosinski.
The shooting happened inside the store, but police confirmed at least one body was found at its entrance, Kosinski said at a briefing.
COLORADO SPRINGS ALLEGED SHOOTER TO APPEAR VIRTUALLY IN COURT
Over 35 to 40 minutes later, officers walked throughout the store, where they found multiple people dead and rescued other victims, he added.
"It's sad. We're a couple of days before the Thanksgiving holiday," Kosinski said.
The City of Chesapeake confirmed at least seven fatalities, including the lone gunman, but said many details are pending the police investigation.
"We're only a few hours into the response, so we don't have all the answers yet. Chesapeake Police continue their investigation into the active shooter event at Walmart on Sam's Circle. We do know there are multiple fatalities plus injuries and the shooter is confirmed dead," a tweet read.
Walmart, Inc. said it was "shocked" by the shooting and that it was cooperating with law enforcement efforts.
President Biden called the shooting "senseless" and in a statement, called for further gun reform.
"Tomorrow is Thanksgiving, one of our most cherished holidays that brings us together as Americans and as families, when we hug our loved ones and count our blessings," Biden said. "But because of yet another horrific and senseless act of violence, there are now even more tables across the country that will have empty seats this Thanksgiving. There are now more families who know the worst kind of loss and pain imaginable."
"This year, I signed the most significant gun reform in a generation, but that is not nearly enough," he added. "We must take greater action."
Several state and national lawmakers also addressed the shooting.
Sen. Mark Warner, D-Virginia, said he was "sickened" and urged residents not to travel near the area.
"Sickened by reports of yet another mass shooting, this time at a Walmart in Chesapeake. I'll be monitoring developments closely," Warner tweeted.
COLORADO NIGHTCLUB SHOOTING VICTIMS IDENTIFIED, POLICE HAIL HEROES WHO TOOK SUSPECT DOWN
He added, "In the meantime, I urge all those in the community to listen to guidance from local law enforcement and stay away from the scene."
Rep. Elaine Lauria, D-02, tweeted, "Enough is enough."
"Praying for the victims, their families and colleagues, and the Chesapeake community tonight," she added.
Rep. Bobby Scott, D-Virginia, called the shooting "yet another incident of senseless gun violence."
"My thoughts are with the victims and their loved ones," he added.
Virginia state Sen. Louise Lucas, who serves as the President Pro tempore, echoed these sentiments in a statement calling for an end to gun violence.
CLICK HERE TO GET THE FOX NEWS APP
"I am absolutely heartbroken that America's latest mass shooting took place in a Walmart in my district in Chesapeake, Virginia tonight. I will not rest until we find the solutions to end this gun violence epidemic in our country that has taken so many lives," Lucas said.
The Virginia shooting comes a mere three days after a shooting at a gay nightclub in Colorado Springs, Colorado left five dead and 17 wounded.
The Associated Press contributed to this report.