Crock-Pot season will soon be underway.
As pumpkin spice everything hits shelves during the dog days of summer, you may be inclined to dust off your Crock-Pot and get cooking with fall flavors or hearty comfort foods.
This recipe for Crock-Pot Borracho Beans by Kate Ramos, author of the cookbook "Plant-Powered Mexican," out in November, is equal parts comfort, quick and affordable. All you have to do is toss in the ingredients and let them simmer. Whether you're feeding a family, yourself or you're prepping some tailgate dishes for football season, this rich dish will satisfy you.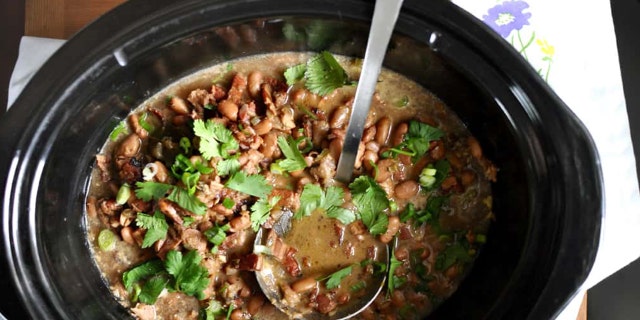 Slow-Cooker-Borracho-Beans-Recipe. (Courtesy of Kate Ramos)
Bring your own chips – this meal calls for a little dipping action.
Crock-Pot Borracho Beans 
Recipe by Kate Ramos
Ingredients:
1 pound dry pinto beans
1 Mexican lager beer (12 ounces)
6 cups water
8 ounces bacon
2 small onions, chopped
2 jalapeños, stemmed and chopped (seeded, for a less spicy version)
4 cloves garlic, chopped
2 teaspoon ground cumin
1 teaspoon ground chili powder
1 teaspoon ground coriander
1 teaspoon dried oregano
2 bay leaves
1/2 cup chopped cilantro
2 scallions, thinly sliced
Directions:
Rinse the beans. Don't skip this easy step. Beans have rocks and dirt mixed in with them. Place them in a colander and rinse under cold water. Look out for any small rocks or clumps of dirt and pick those out. Since we are cooking them low and slow in a slow cooker, you don't need to soak the beans overnight.
Combine beans with liquid. Place the beans into a large Crock-Pot then add the beer and water. I like to use a lager-style Mexican beer.
Crisp bacon. Cook it over medium-high heat and render the fat so you can cook your onions in the bacon grease.
Cook aromatics. Sauté the onions, jalapenos, and garlic in the bacon grease, along with the chili powder and other spices.
Mix it all together. Stir to combine everything in the Crock-Pot. Put the lid on and walk away.