Bubba Wallace is a winner.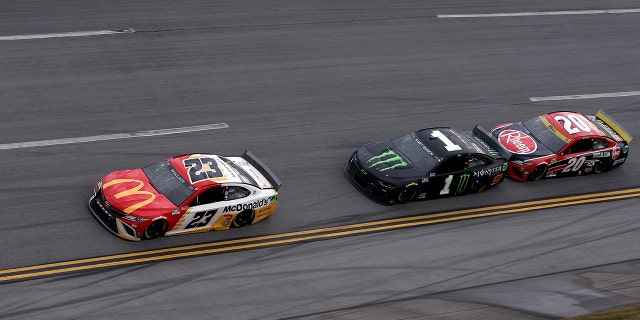 Wallace's number 23 car was at the front when racing was suspended after 117 laps of the YellaWood 500 at Talladega were completed.
(Sean Gardner/Getty Images)
The 23IX Racing driver was leading the NASCAR playoff race at Talladega Superspeedway on Monday when it was suspended for rain after lap 117.
Since more than half of the scheduled 188 laps were completed, NASCAR rules say the standings will be scored as the official finishing order.
The race had been postponed from Sunday due to bad weather at the Alabama track.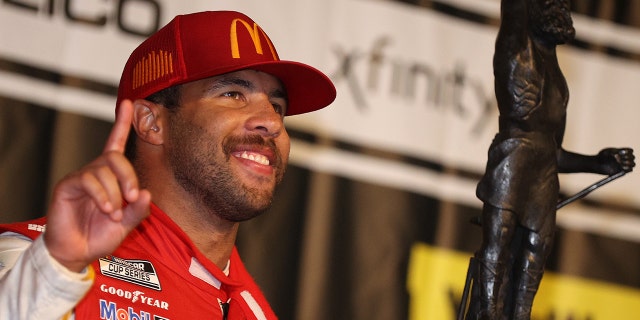 (Chris Graythen/Getty Images)
Wallace, who didn't qualify for the playoffs, was leading championship contenders Brad Keselowski Joey Logano at the time the red flag was flown.
It marks Wallace's first win in the Cup Series, where his previous best finishes were second place showings at the 2018 Daytona 500 and 2021 Coke Zero Sugar 400 at the Daytona International Speedway.
With the victory, Wallace becomes just the second African American to win a Cup Series race after Wendell Scott who won in 1963.
"It obviously brings a lot of emotion, a lot of joy to my family, fans, friends. It's pretty damn cool," a teary Wallace said after the race.
Wallace said it was fitting that the victory came at Talladega, where last summer he found himself at the center of controversy when a door pull rope tied into a noose was found in his garage, leading to an outpouring of support from NASCAR. It was later determined the rope was not directed at him, sparking unfounded accusations from some, including President Trump, that the incident was a publicity stunt or a hoax.
"This is to all those kids out there who want to have an opportunity in whatever they want to achieve and be the best at whatever they want to do and you're going to go through a lot of bulls–t, but you've always gotta stick true to your path and not let the nonsense get to you and stay strong, stay humble, stay hungry," Wallace said.
"There's been plenty of times when I wanted to give up and you surround yourself with the right people and its moments like this you appreciate."
The win was also the first for the 23XI Racing team, which was launched by owners Denny Hamlin and Michael Jordan this season.
This breaking news story has been updated with additional information
Gary Gastelu is FoxNews.com's Automotive Editor covering the car industry and racing. Follow @foxnewsautos